Do you want your YouTube videos to have all the captions/subtitles?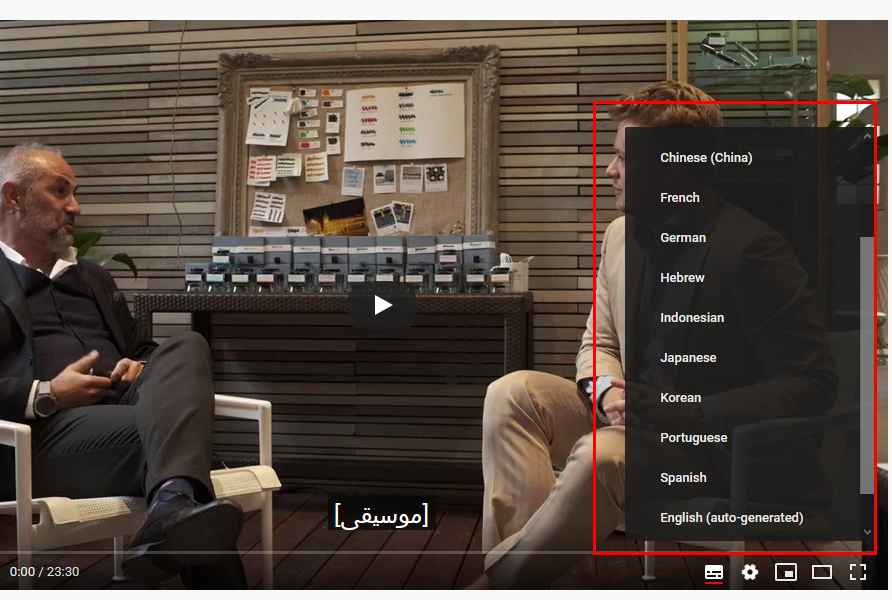 While it may sound unbelievable, but it is a fact that only 25% of searches made on the internet are in the English language. YouTube has 3 billion searches in a month, and 75% are not in English. So, if our videos are only available in the English language, then we are missing out 75% of the market. Sounds crazy right? But it is true. Have you ever thought what wonders our product will do if we access that untouched market? How awesome would it be if our videos start ranking in foreign languages in 2020? Obviously, it will result in more sales, hence, more success.
However, the real question is how do we do that? What measures should we take to enter that market?
The biggest barrier is, of course, language. If your video is in English, then a person who does not understand English will simply miss out your product. In this scenario, you need something, maybe software that translates your videos into the desired language at the user side without using any plugin or extension.
Demo Video
Lingo Blaster 2.0 offers to do this job for you as it efficiently translates your videos into any language of your choice without even hiring a translator or sourcing from the YouTube community. It helps you add all your desired languages while uploading and removing all the barriers and delivers your product to the hidden audience that you had never reached before.
Go to the Analytics section of your YouTube account. You will notice that a lot of traffic is from foreign keywords and foreign countries. You can get double, triple, or maybe ten times more traffic depending upon the product by targeting foreign keywords. All you need to do is to use Lingo Blaster 2.0 to work with your already uploaded videos and witness the magic.
How to work with Lingo Blaster 2.0
Working with this software is a child's play. First open your software, and all you have to do is to select an account. If you are a new user then you will have to add a new YouTube account. Simply click on "Add YouTube account". A pop up will appear where you can select your account. If you don't see your account there, then enter the email and password of your YouTube account. After adding your account, click on "translate videos" tab on the left side.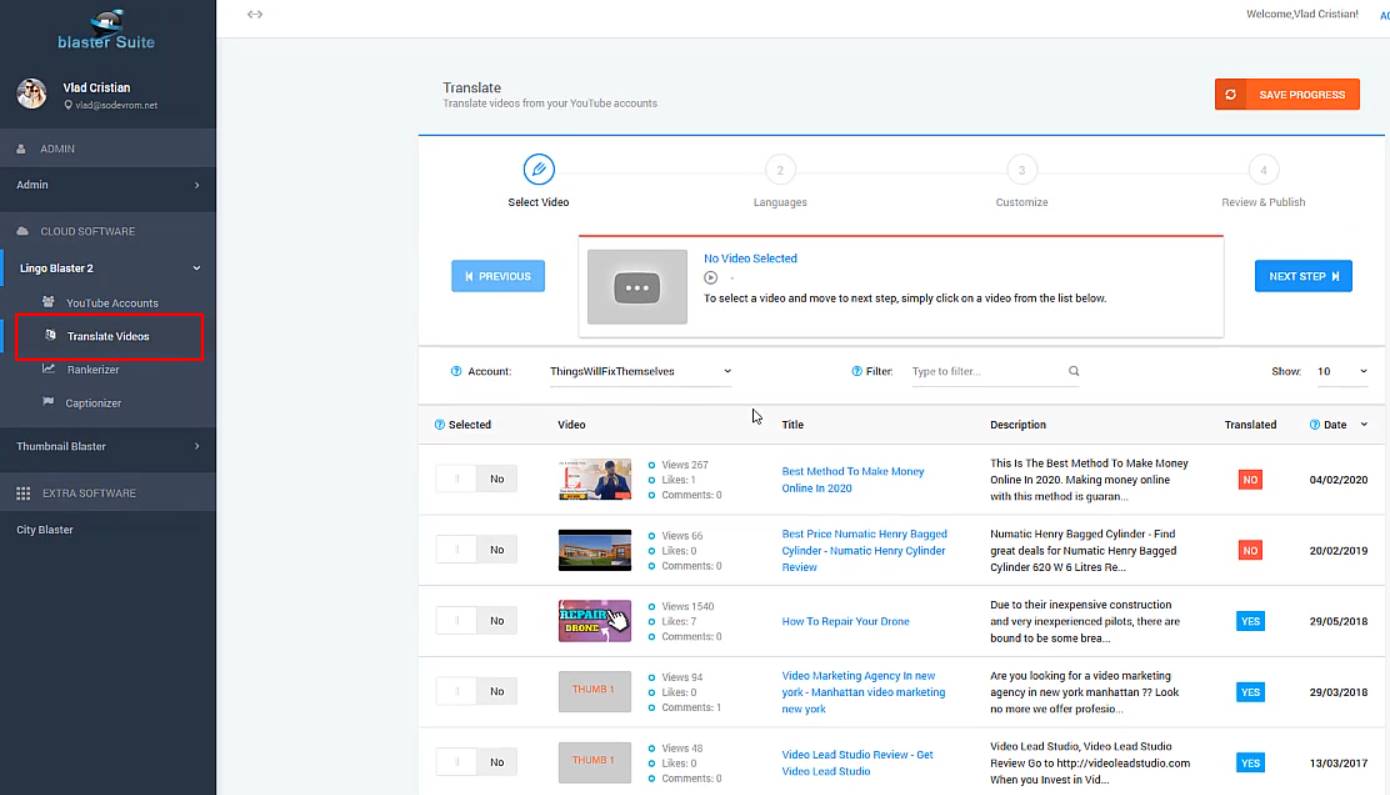 Then, select the video that you want to translate. If you have a lot of videos then you can search your desired video by typing the keyword in the "Filter search". It will show you the videos that contain the keyword you entered. Moreover, it will also show if the video is already translated or not. After selecting the video, click on the next step button. By just doing this you are actually accessing more than 70% of the untouched market.
Now, you have to select the languages in which you want to rank and translate the video. It will show you the original language of the video as well. The best thing about this software is that you can select multiple languages in one go. Under the list of available languages, select the languages into which you want your video to be translated.
After selecting the languages click on the next step button.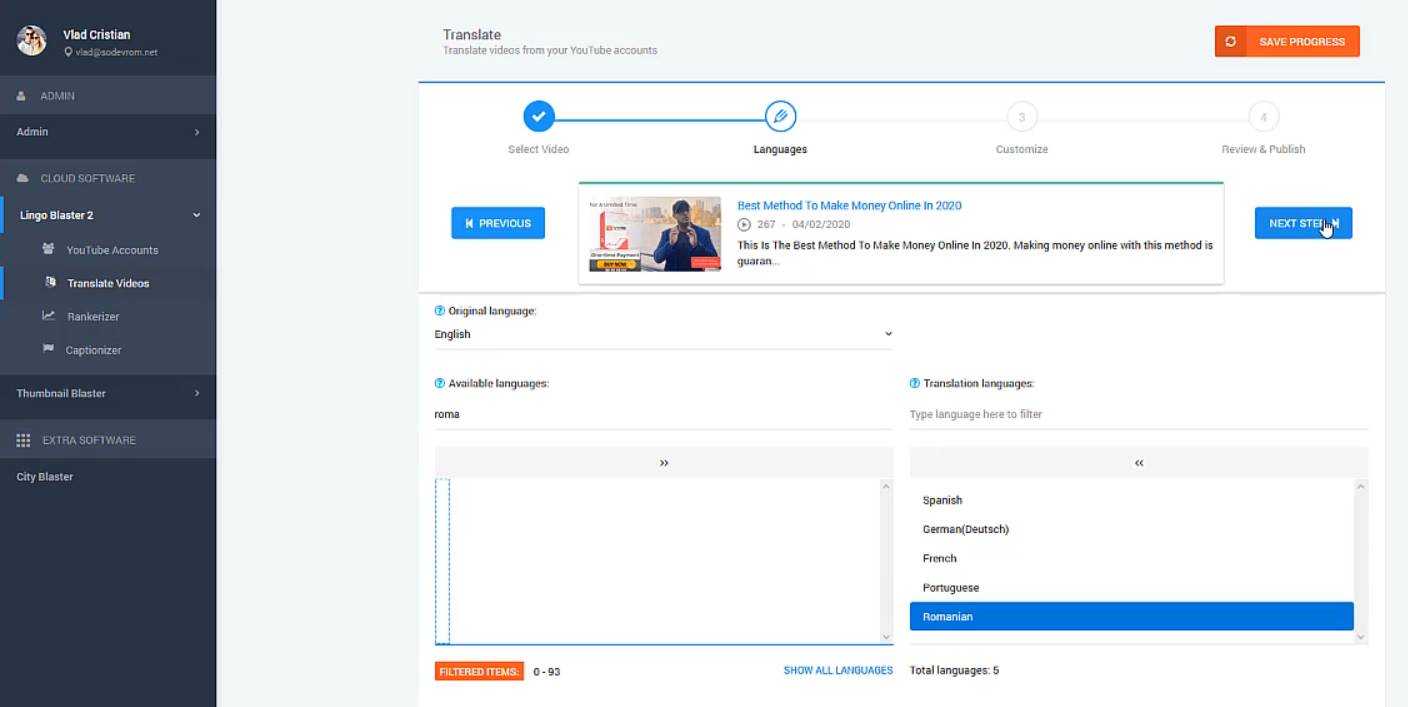 On this page, you can choose the words in your title, description, and caption you do not want to be translated. There are some words that should better be left off as they are. Since they might not make sense if they are translated. This is yet another unique feature of this software. Type the words that you don't want to be translated in the "Exclude from translation" blank. All those words will be highlighted and they will remain there in the original language. Click on the next step button after that.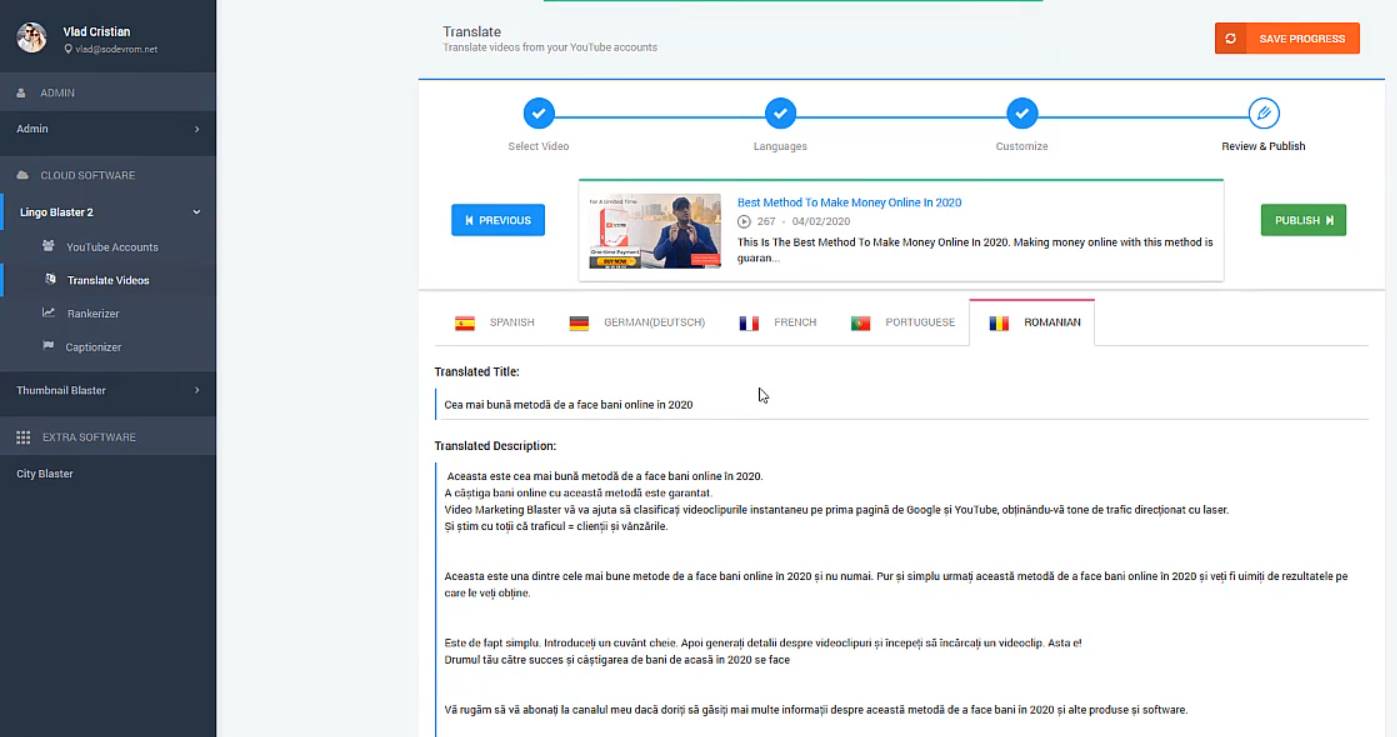 Moving on towards the finishing part, you just have to wait for hardly twenty seconds. As soon as the translation finishes, you will be able to publish the translated videos on YouTube. You can click on each language tab to check the translations as well. Click on the publish button to start the magic.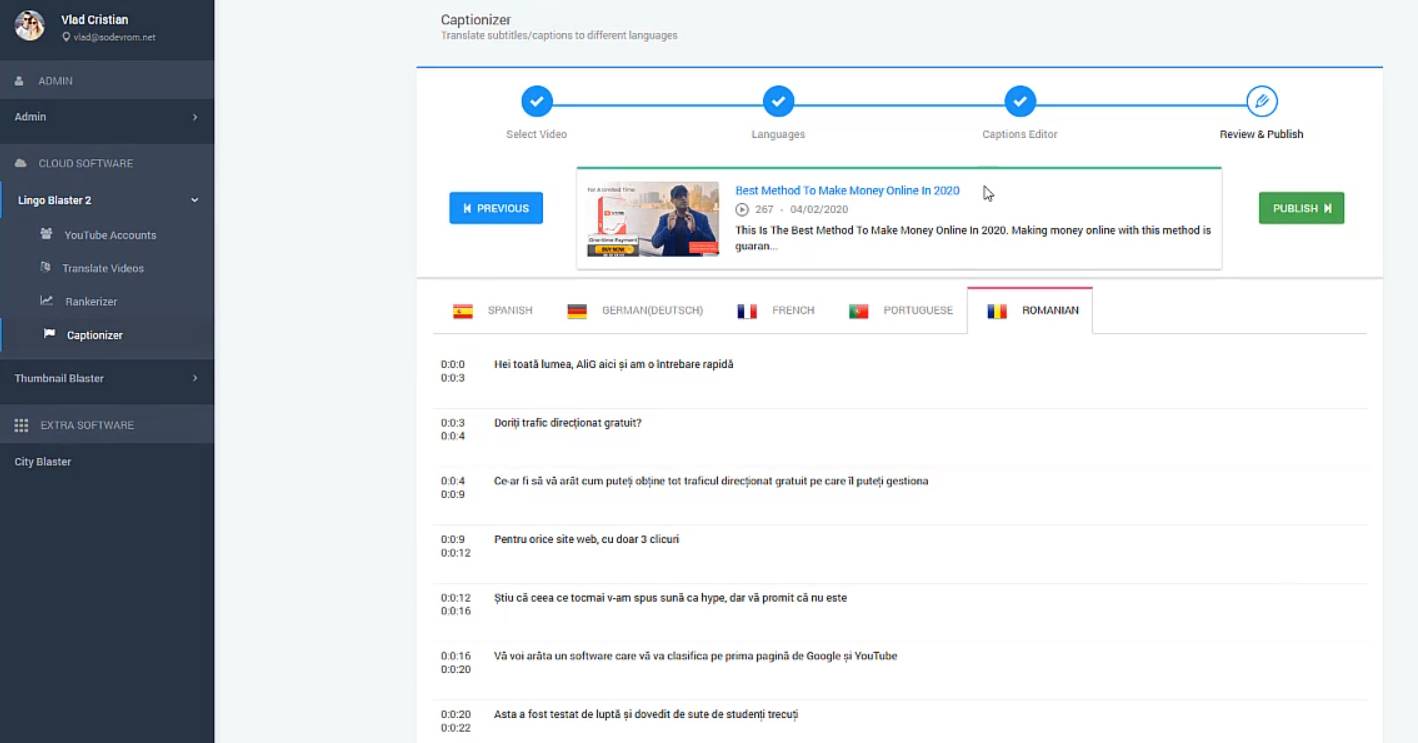 If you are curious about whether it really worked or not? You can always visit your video's page that you have translated via this software. Change the language of your YouTube and refresh it. You will see that your title, description, and caption will be changed to that language if you had translated it earlier via Lingo Blaster 2.0. You can test it with all the languages that you entered while translating.
Not just that, you can search the translated keywords in another language on YouTube and your video will appear.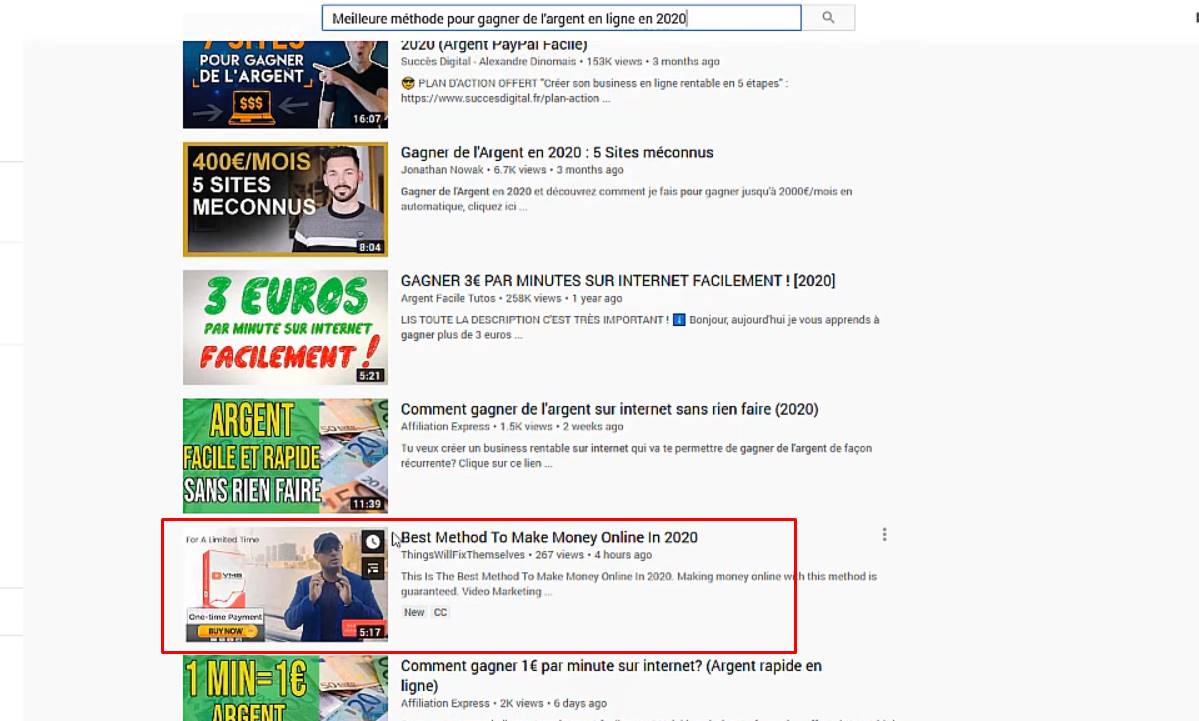 Before Translation: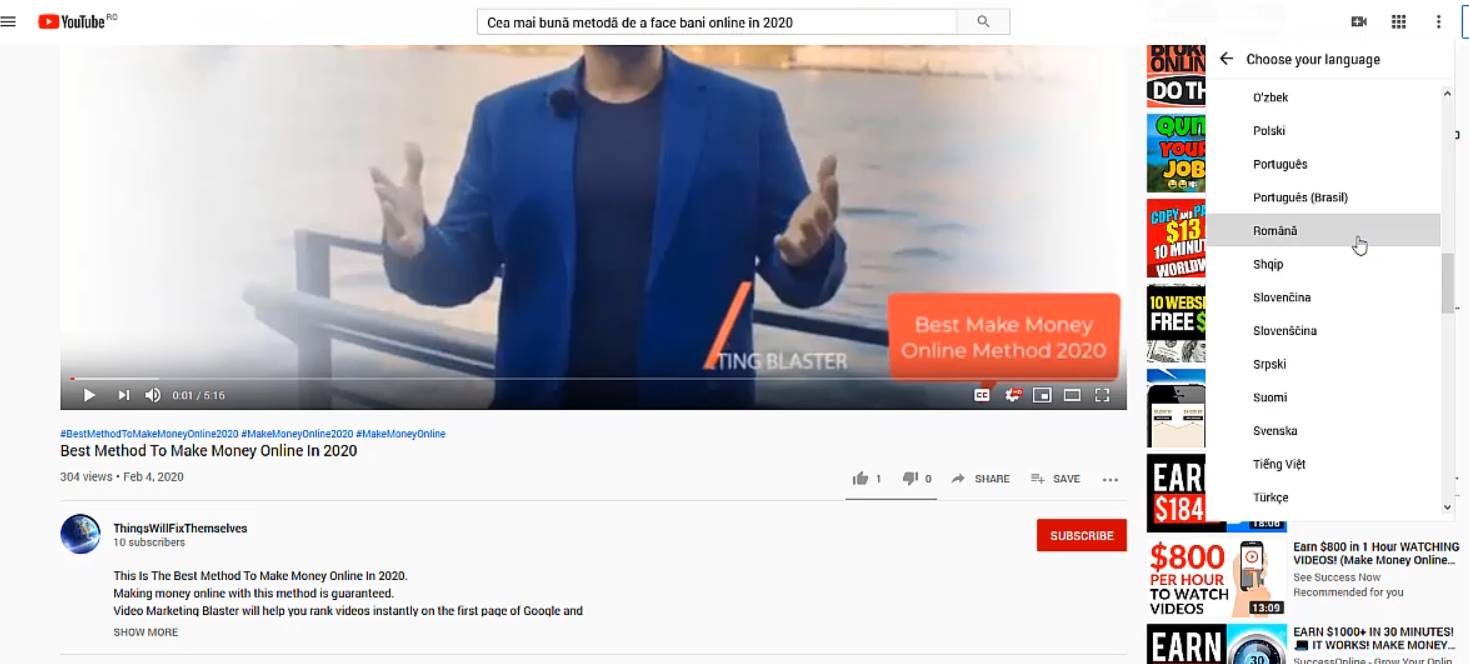 After Translation: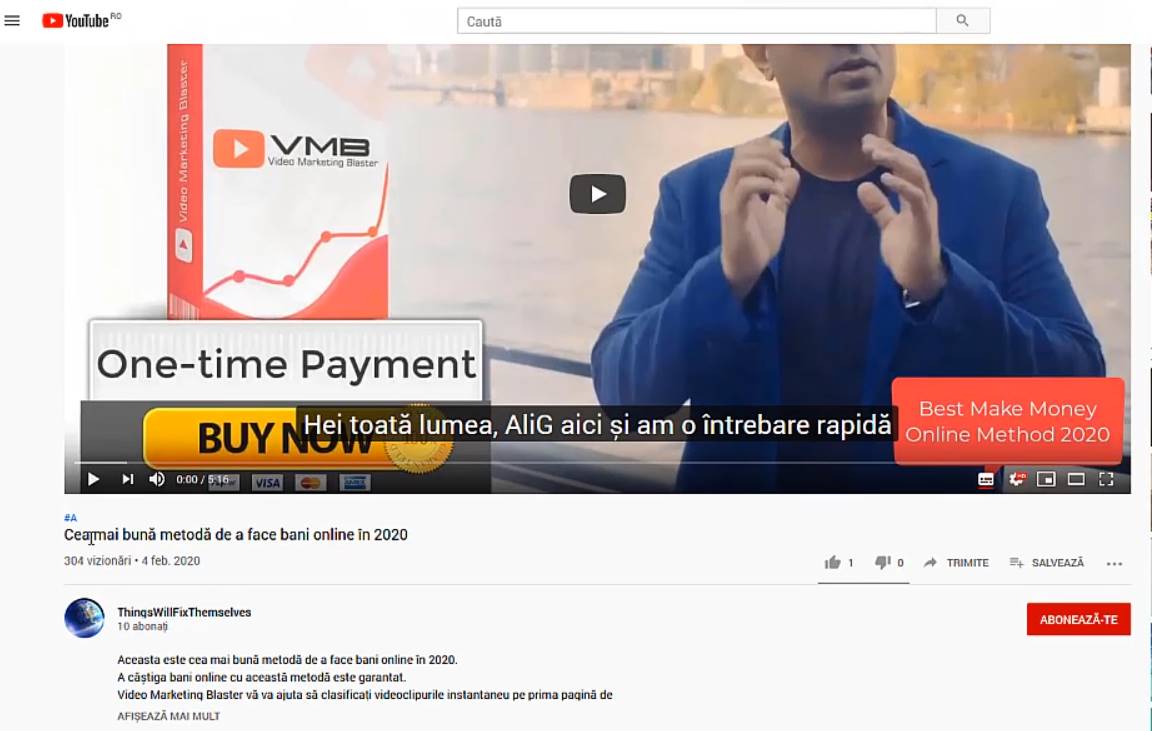 Supported Languages:
Spanish, Italian, German, Hindi, Russian, Chinese, Portuguese, French, Afrikaans, Albanian, Amharic, Arabic, Armenian, Azerbaijani, Basque, Belarusian, Bengali, Bosnian, Bulgarian, Burmese, Catalan, Cebuano, Chichewa, Corsican, Croatian, Czech, Danish, Dutch, Estonian, Filipino, Frisian, Galician, Georgian, Greek, Gujarati, Haitian Creole, Hausa, Hawaiian, Hebrew, Hmong, Hungarian, Icelandic, Igbo, Indonesian, Irish, Japanese, Javanese, Kannada, Kazakh, Khmer, Korean, Kurdish (Kurmanji), Kyrgyz, Lao, Latvian, Lithuanian, Luxembourgish, Macedonian, Malagasy, Malay, Malayalam, Maltese, Maori, Marathi, Mongolian, Nepali, Norwegian (Bokmål), Pashto, Persian, Punjabi, Romanian, Samoan, Scots Gaelic, Serbian, Sesotho, Shona, Sindhi, Sinhala, Slovak, Somali,
Conclusion:
1) No need to Upload Multiple Videos
2) Without Paying Translators
3) Without Spending Any Money
To cut a long story short, this software allows you to translate any video that you have in your YouTube account into a different language. It might not sound that intriguing, but, it opens up the doors to a lot more traffic. You just need to make one video and then you can rank it in all of the different countries. Not only in your US YouTube account or your German YouTube account, but you can also rank it on YouTube Spanish, YouTube France, etc. If you have made a video for a certain offer that you are promoting, you can get a lot more traffic to that video and ultimately resulting in more sales.