Are you looking for a way to connect different products and services to boost your business? IF This Then That, commonly known as IFTTT is a web tool to do so. Today, it is nearly impossible to run a successful business without being active online. The social media have got a hell of a lot more power than you think. The promotion and advertisement on social media is the most value nowadays. IFTTT connects different apps, products, and services together and eases things tenfold.
How Does IFTTT Work?
Let's explain the working of IFTTT through an example! You need to post on your twitter, Instagram, and Linkedin accounts something you just posted on Facebook. If you have access to IFTTT, you can connect all these apps together and it will automatically post it for you. That's how it automates your day. Well, this is just a simple example. There's a lot more you can do.
To have a better understanding of its working, have a look at the following steps
"Applets" is the term it uses to mention the connection between two services.
The first connection that is supposed to be connected with the rest is known as the "trigger" and the second one is called the "action."
So, in the above example, the Facebook which is to be connected with the other apps is the trigger and the apps connected to Facebook (Twitter, Linkedin, and Instagram) are the actions.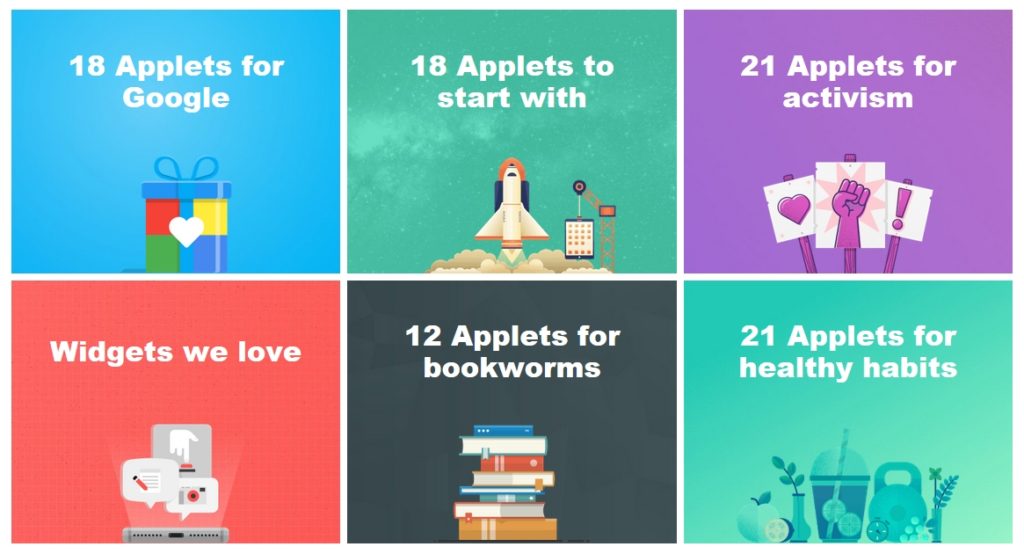 How to Use IFTTT Social Media Applets?
The most amazing fact about IFTTT is that it's free. What else do you need when you can automate your day at free of cost? Let's talk about how social media applets work.
IFTTT keeps your Facebook and Twitter profiles connected via syncing. It reduces your workload while simultaneously increasing your business. With this social media applet, when you upload your Facebook profile, it gets automatically updated on Twitter.
Just like your Facebook picture, your Instagram posts can also be uploaded on twitter via an option "share on twitter." However, note that anything that is posted from Instagram to twitter appears as a link.
The most exciting feature is the applet that connects your twitter hashtag to the Google spreadsheet. When you tweet anything as a hashtag (let's say you promoted your company's name or the new product you are about to launch), it automatically gets shared on your Google spreadsheet.
You can also send live twitter updates to a channel. With this applet, you can send your twitter updates, anything from recent posts to a hashtag, to any slack channel you want.
How to Use IFTTT Campaign Management Applets?
Now, moving on to the ways of managing campaigns through IFTTT, which is yet another amazing feature.
While doing marketing such as planning a new MailChimp campaign, it is healthy for your business to keep people updated. When you plan a MailChimp campaign, IFTTT uses an applete and automatically updates your schedule in the Google calendar.
You can also sync social media buffer posts to the Google calendar to enhance your campaigning. I have already shed enough light on the importance of social media in terms of promotion and advertisement. Same is true for campaigning.
Now, let's talk about the most important applet! All the businessmen are well aware of the importance of stats and calculations. If you need to keep your business balanced, it must be measured accurately. IFTTT also eases this burden for you by syncing the stats of a MailChimp campaign to the Google Spreadsheet. It gets easier for you to see the important information such as the open rates and clicks.
In a Nutshell
IFTTT isn't just a web tool, but a way to ease your business tasks. While doing a business, you face time constraints and it gets difficult for you to be active in the Internet world. This tool was developed to automate your business. It works like an automatic car where you just have to sit and handle the steering; the rest will be handled by the tool itself.