It's no secret that YouTube is the biggest video channel. When it comes to marketers, the standard embedded video players do not have the key features you need for your landing pages, sales pages or even simply your blog posts. The successful trend of marketing through videos cannot be denied which makes videos important to get your marketing ship sailing in the sea of market out there.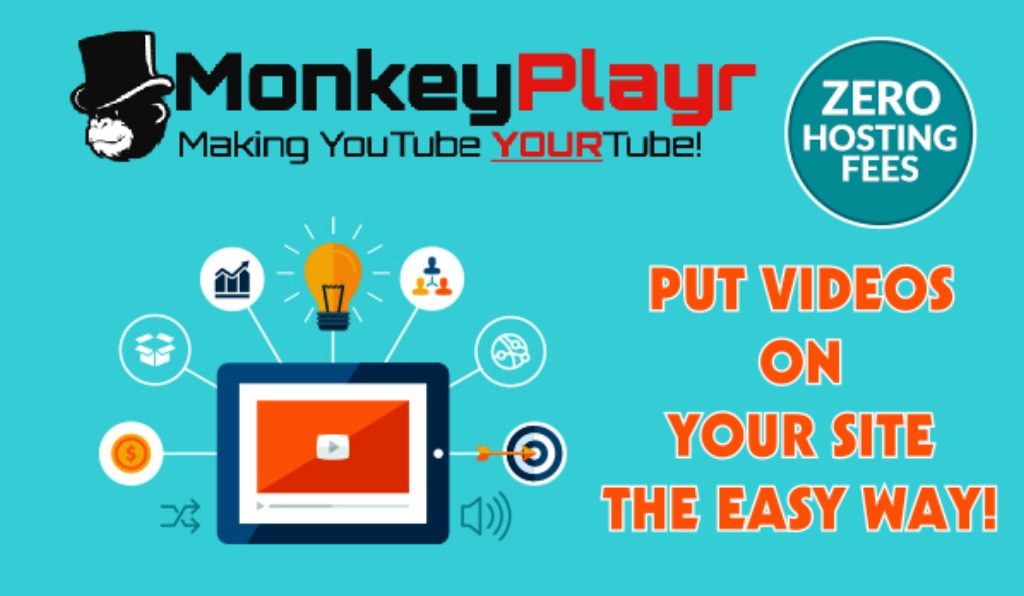 What a marketer basically needs is a fertile ground where he can add suitable videos that serves the purpose of marketing and YouTube doesn't come as a surprise. However, being a marketer don't you want your videos to be flexible and unique to convince your target audience? This is exactly where Monkey Playr comes in to hold the reigns of your marketing videos and making everything simpler and easier by becoming the ultimate sales page builder for you.
Your Struggles and their Solutions
One of the problems that you probably have been facing is that whenever you require a specific section from a video, it takes a lot of time to cut the video down to your specific area. Secondly, many videos on Youtube come with a YouTube logo making it less unique to serve your purpose. Monkey Playr will solve all such problems but how? Read on.
You can easily and effectively embed YouTube videos to your blog or website and then add overlay advertisements, restrict the controls and pull users to watch your very own call to actions. The coolest part is that it has absolutely NO hosting fees which will save you hundreds and thousands you spend on video hosting each year. The tech smarts of Monkey Playr combined with YouTube will feed enough fodder to the cannons of your sales videos to shoot itself out in the market.
Monkey Playr solves all problems of internet marketers who might be making use of Vimeo, Wistia or other self-hosted solutions that come with a monthly fee to host your videos. This ultimate sales page builder can easily host on YouTube and simply within minutes restrict access to controls. You can even exercise control when it comes to blocking user's ability to break out of frames or pause videos. Monkey Playr lets you do this with YouTube videos and that too without charging any extra fees or software costs.
Building a sales website has never been this hassle free as you also get the freedom of adjusting the width and height of YouTube video player, disabling full screen playback and player control, disabling any drop down or video information boxes, and setting your video player to full responsive mode. Squeeze page creation is yet another problem solved with Monkey Playr.
Key Features of Monkey Playr
Start & Stop Timer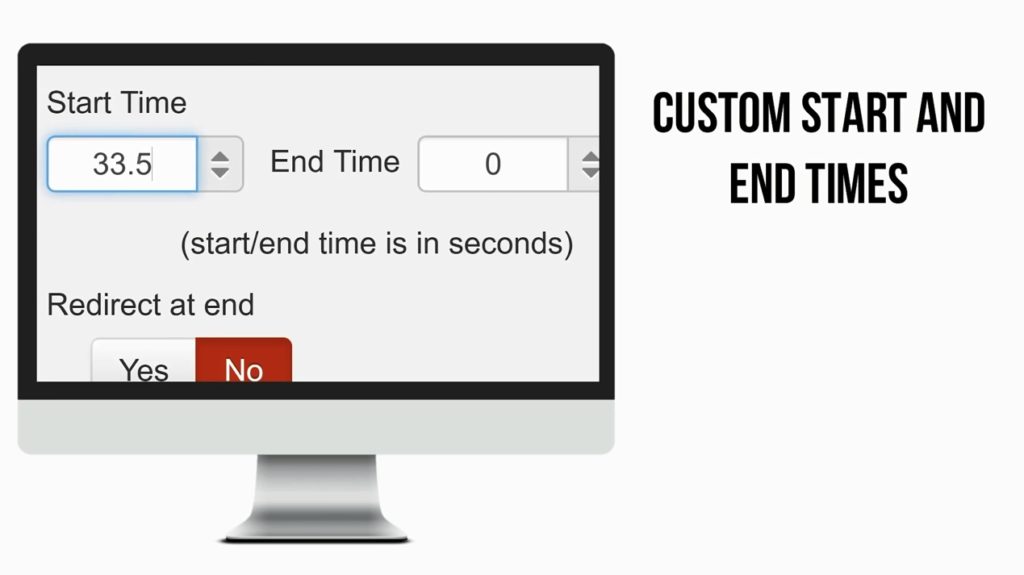 This feature is going to help save loads of your time but how? It saves you all the worry of using some other software to cut your video to a specific section you require. Monkey custom YouTube player will let you do that in a matter of few clicks and allow you to set the start and stop time. Whether you want your audience to see the whole video or only a part of it is entirely up to you.
Autoplay Videos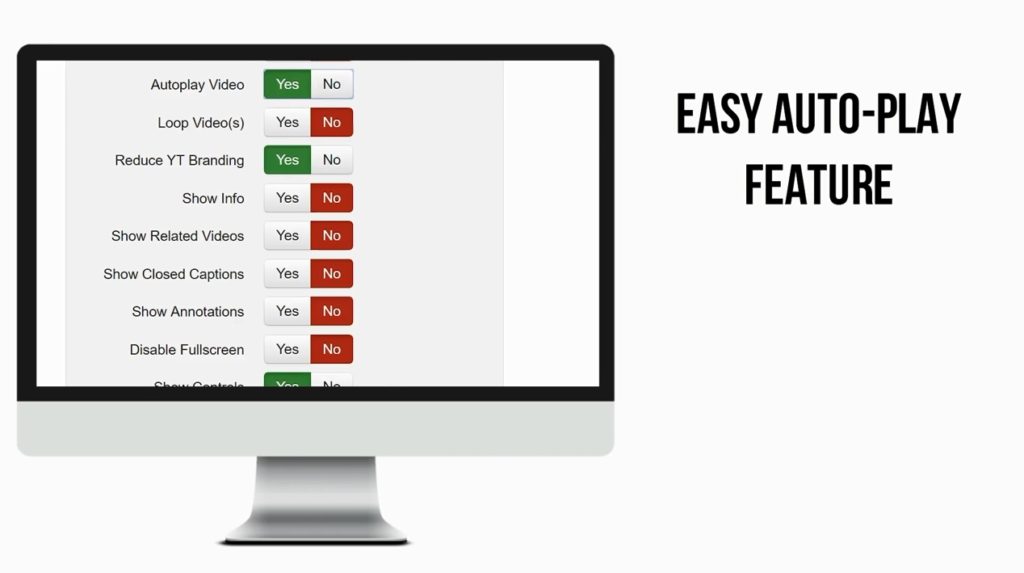 You have a choice of allowing your videos to automatically play when your page loads. Your visitor doesn't have to click on the start button when your page loads. This feature is a huge plus for opt-in pages and sales letter where you require conversion rates most. Let's face it, a lot of us are too lazy to click a video because we don't feel like watching it but if the video is already playing, we definitely retain a bit of info in our heads.
Unbranded Player
Many of us want to get rid of the YouTube branding on the video to make it unique. Monkey Playr gives you the option of Modest Branding that helps you rid your video of the YouTube logo. Besides, nobody needs to know you are using YouTube videos for your campaign. It will offer you an unbranded, clean and simple player making it look like you have a professional sales page that is making use of a professional video host.
Loop Your Videos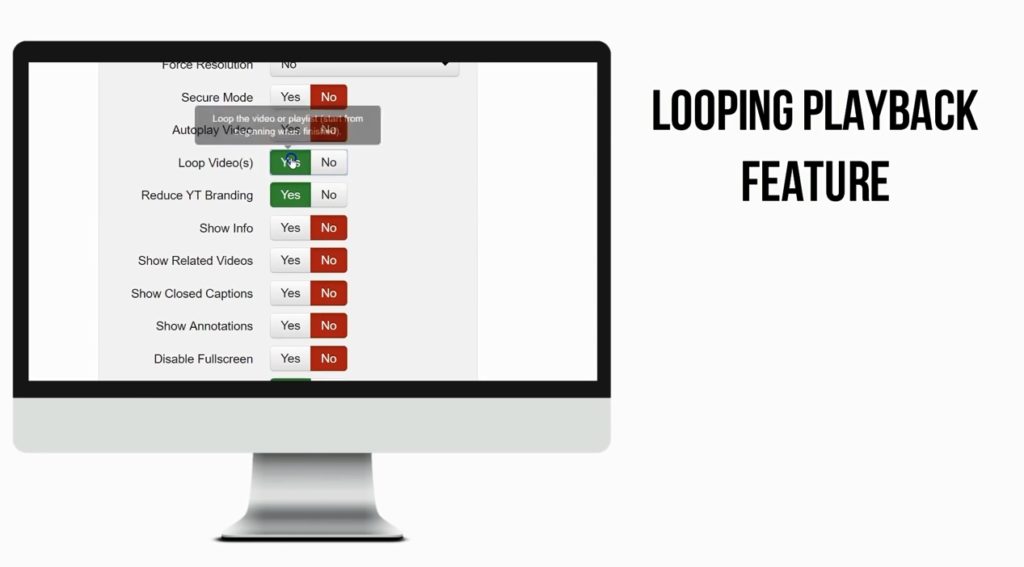 Now what is video looping? Monkey Playr allows you to loop the playback or any video or video playlist. You even have the option of disabling related videos. You can make use of this feature just in case you wanted a certain next video in a series to play automatically.
HTTPS & Forced HD
This feature makes sure that all your video look great which means they are not going to be poor quality videos even if the internet speed of your user is slow. This option comes in handy especially when you are making download pages and sales page in order to beef up your video quality.
Why you should buy Monkey Playr
Edit Players Centrally
Whether you have just one website or multiple sites, you can control your videos from a central dash board (Complete autonomy, isn't it?).
For HTML and WordPress
It is easily usable on any website whether HTML or PHP sites and even WordPress. Shed away your worries regarding the environment. Simply focus on the kind of videos you need to get high conversion rate.
Nothing to Code or Install
Since it is a web based service (SaaS), there is absolutely no need of wasting time on installations.
Zero Video Hosting Fees
Monkey Playr doesn't charge ANY hosting fees at all. Then why spend thousands of dollars on purchasing expensive copyrights?