Bringing an influx of traffic on your website is pretty challenging for an online marketer. Last week, I was struggling to increase visitors on my newly made website, but since I had a lot of other things to manage, I couldn't do it. By discussing the issue with one my fellows, I got to know about the High Authority Expired Domains.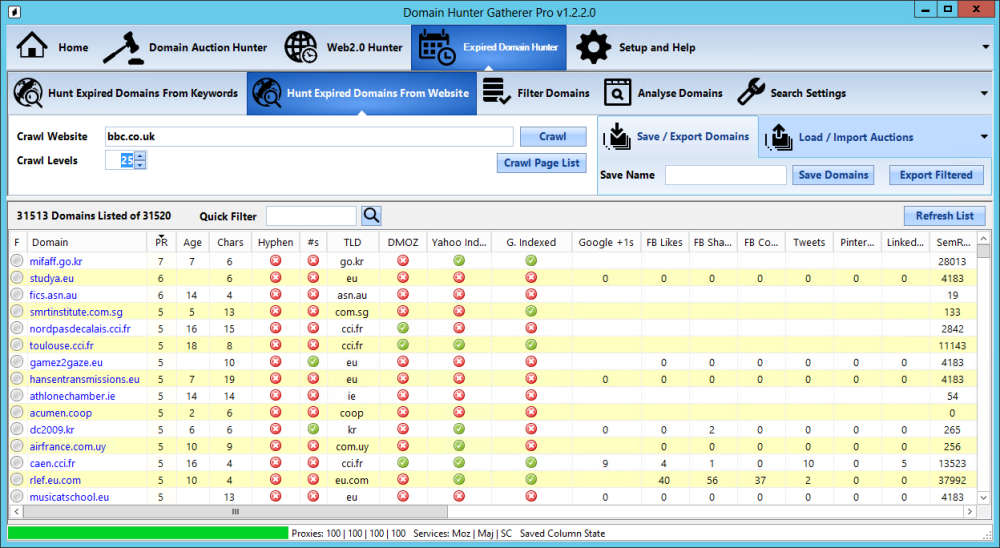 The idea of expired domain marketing is thrilling for a marketer, but it's a challenge to explain it to a layman. For most of the people, web addresses are immutable, but the reality is, they come and go every day. You can use high authority expired domains for multiple purposes I am going to tell you shortly. Now, the question is how can you find such domains among a million other addresses? That's what I am here for in this post to let you know how can you find and then buy the expired domains.
What Can You Use Expired Domains For?
Before moving on to the way of finding, using, and buying an expired domain, you should know what you can use them for. Well, you have got three options.
1) Redirect Traffic of the Domain to Your Own Site
If you have found a relevant domain with a good number of visitors, you can steal that traffic and bring it to your own website. Once you have siphoned off visitors, you can eventually let the domain expire again when the traffic is minimal.
2) Start a Microsite, PBN or a Full Website From Scratch
On the domain you have chosen, you can start a new website. It is fruitful when you want to start a blog or a business that matches the niche of the expired address you have found out. The results are best when you can do better than the previously existed owner. It's just like starting a website from scratch with an additional benefit of already developed monthly traffic that you don't get otherwise.
3) Restore the Old Website
Won't there be a reason why there are a lot of visitors on the expired domain? This shows it was a successfully running website. You can try to restore it and make it look like the older one with the use of tools like Google cache. Don't get disheartened if you don't get everything back because it isn't that simple, but you can try.
How To Find Expired Domains?
Online marketers know that things change pretty often and websites can vanish anytime, but this is not a common societal perception. Imagine getting your hands on a website that already has a handful of traffic! The biggest challenge of an online marketer is to build traffic on a website, and when you can get it all readily available on your plate, it feels like a blessing.
With expired domains, I mean the addresses that are expected to disappear soon. They are different from the ones that have not been registered yet because they have got a history, and those addresses that have got a good past are demanding. Domain Hunter Gatherer is the tool that will help you find the web addresses that will soon vanish out, along with the history they hold. You can see and then buy the one that suits you the most.
There are some obvious reasons why I am suggesting you use Domain Hunter Gatherer. Following are some of the key reasons I have listed down. Have a look!
1) There's No Need of a Third Party Service
You have got an all-in-one solution with no additional cost. The software finds you metrics out of Majestic and co. without any extra fee; thereby saving you a handsome amount of money.
2) There are Five Ways Through Which You Can Find Web Addresses
This software allows you five simple options of searching an address. Let's talk about each, individually.
Search From Websites: You will have to slide into some of the popular websites and find their linked addresses that have been expired. For instance, you can search for high authority expired domains domains from wikihow, CNN's official website, etc.
Search Through Keywords: Online marketing is nothing without keywords hunting, and the same applies when you find domain addresses through domain hunter. Enter some keywords of your interest and the software will find you some related expired addresses.
Backward Hunting: You can also look for the backlinks of the domain you have entered. When you enter a domain address, the software finds you the backlinks and then scans them to find soon-to-be-vanished domains.
Auction Hunter: The software also allows you to look up eight marketplaces that have been expired and the key metrics associated with them when you enter a domain. It works just like an auction.
Web 2.0 Hunter: You can also search for related expired 2.0 web platforms from twenty varying 2.0 platforms.
3) Filtration and Sorting
You can filter out the domains either demographically by choosing language and countries or by the number of traffic on websites. It eases and fastens the process of searching as per your needs and goals.
4) Rebuilding a Website
Once you have selected an expired domain, you must need a lot of changes to meet your standards, right? To put it simply, you need to recreate or rebuild the entire website. The domain hunter gather allows you to rebuild your chosen address in just one click.
What Packages Does the Software Offer?
It has three different packages and each suits different needs. The packages are named as free, premium, and professional.
As the name indicates, the first package is free of cost with ad-supported domain auction hunting. Other distinguishing features include the ability to compare domains from all auction sites, more than thirty-five quality metrics, and video guides.
The premium package costs $17/month with expired web 2.0 hunting. Furthermore, it allows you to register unlimited accounts at no cost, search through keywords, access all features from the free version, and the thirty-day money back guarantee. What is more, the package is multi threaded for speed so efficiency is also apparent.
The professional package has got everything along with the high authority expired domains mining in $87/month. With this package, you can access a good aged domain starting from $10 or even less, crawl authentic websites, look for expired domains related to your niche, backwardly crawl website, get a unique spam check, regularly crawl thousands of pages, access to all features of DHG premium, access to DomRecovery in $97, and thirty-day money back guarantee.
In a Nutshell
The expired domains serve as a short cut when you want to start a new website. The biggest advantage of using it that you get already existing traffic on your website and you don't have to play SEO games to do that; thereby saving you both time and energy. The domain hunter gatherer is the best tool to find and use a high authority expired domains. The software is super-easy to use and has a bundle of attractive features.