Facebook marketing has simplified a great deal in the past few years, and the reason is the introduction of several marketing tools. Being a marketer, all you care about is the ways to increase your Conversion, ROAS, ROI, and CTR right? Out of all the available tools, the campaign maker serves the best for these purposes.
Since this Web-Based software is a bit new to the market, you not might have heard about The Campaign Maker, a powerful automation tool for Facebook Advertising.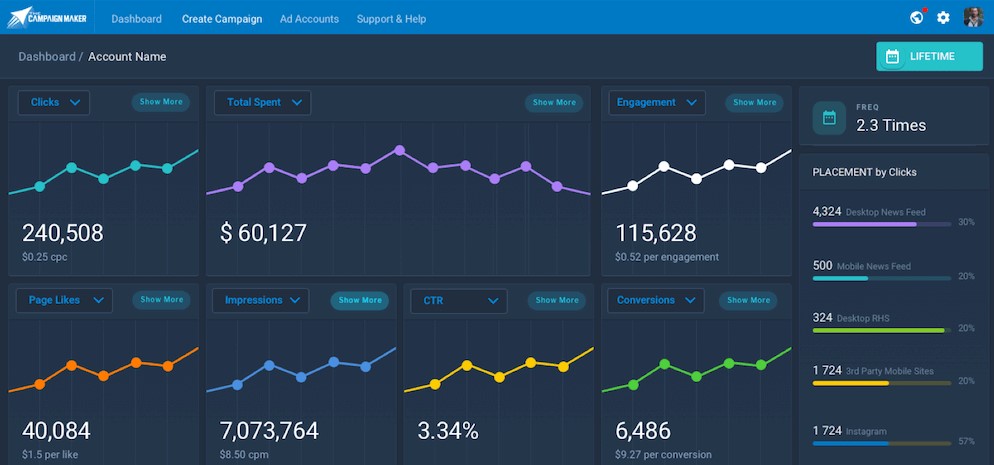 In this post, I am going to talk about the way it works, its features, and the advantages it holds.
How Does The Campaign Maker Work?
Let's start with the step-by-step guide on the way it works. You need to register yourself first. You can sign up with your Facebook account.
After registration, you will be asked to authorize your account. Once done with that, you will be shifted to the main page. The first glance at the dashboard will leave you awestruck! You will have everything you need about Facebook marketing just in one glance.
Here's the simple five-step guide to setup an extremely optimized Facebook campaign.
1) Choose an Objective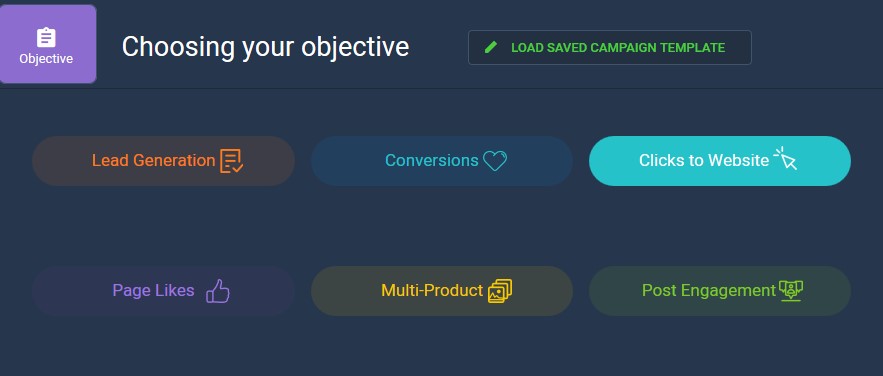 Go to "Create Campaign", the second option in the top horizontal bar of the window. Then, select "Objective" the first among the five options at the left-hand side of the window.
There you will find the six most widely used campaign objectives: Lead Generation, Page Likes, Conversions, Multi-Product, Clicks to Website, and Post Engagement.
After setting the objective, you have to name the campaign at this very step and select the ad account you want like to link with it. With this, you will be done with the first step that takes not more than half a minute.
2) Set Up Your Ad
Move to the next option "Adcopy" where you will be setting up your ad. In simple words, setting up means to do A/B testing of all the areas of advertisement including the multiple heading, body text, and description you have written without wasting time on Facebook Power Editor. It also allows you to test the multiple URLs and images or videos you have added with a simple interface.
At this step, you can also have a preview of how your ad will look like both on mobile screens and desktops. All in all, you will be done with setting up your ad within five minutes.
3) Set Your Target Audience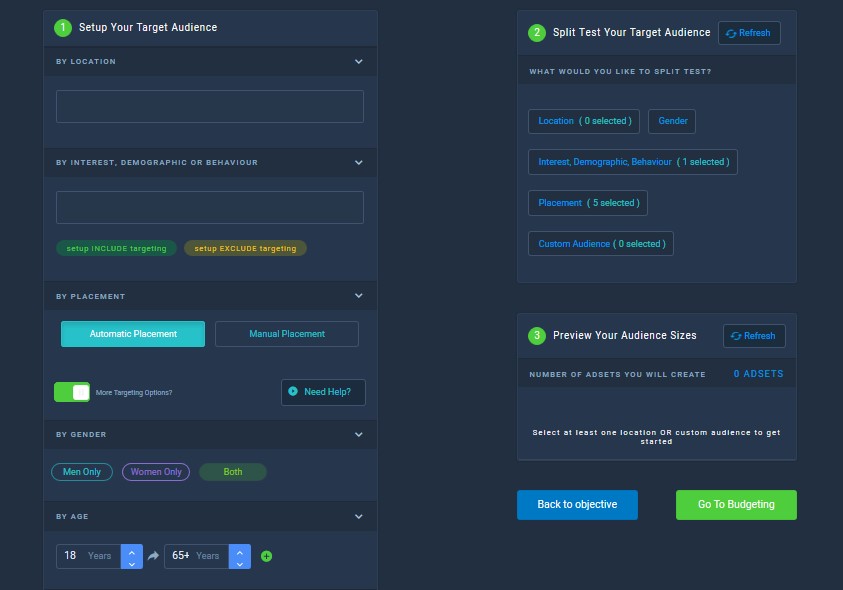 Here comes the most interesting step! Facebook marketing is all about setting up your target audience. You can hit the people by targeting any aspect you like such as age, gender, demographics, etc. Could you imagine reaching your audience would be this much easy in the past?
You can A/B split test and filter down your audience out of millions as per
Gender
Location
Language
Age
Relationship status
Job title
Placement
Education
Custom audience, and last and the most interesting
Demographics or behavior, interest with an added feature of "advanced target."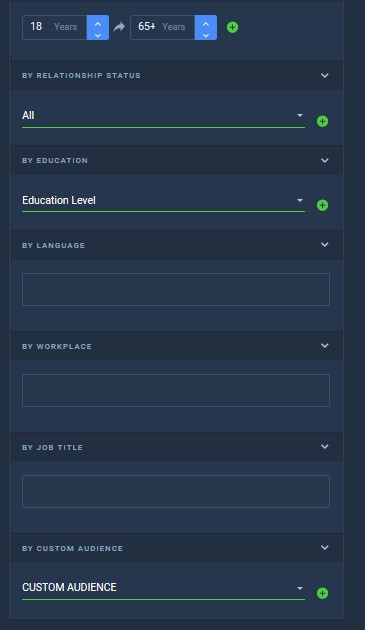 Here, you can test every aspect individually. The total time this step takes is five minutes.
4) Set Up Your Budget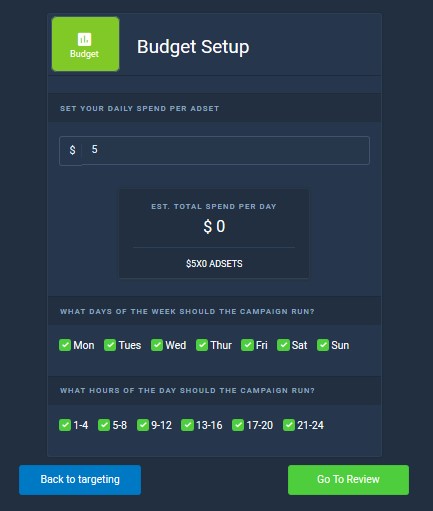 Once you are done with setting up your ad and testing it, it's time to decide how much you will be spending a day per adset. It's very helpful especially when you have a lot of ad sets to split test at once. This option also allows you to set date and time at which you want to run your campaign. Setting up a budget takes sixty seconds of your time only.
5) Recheck Everything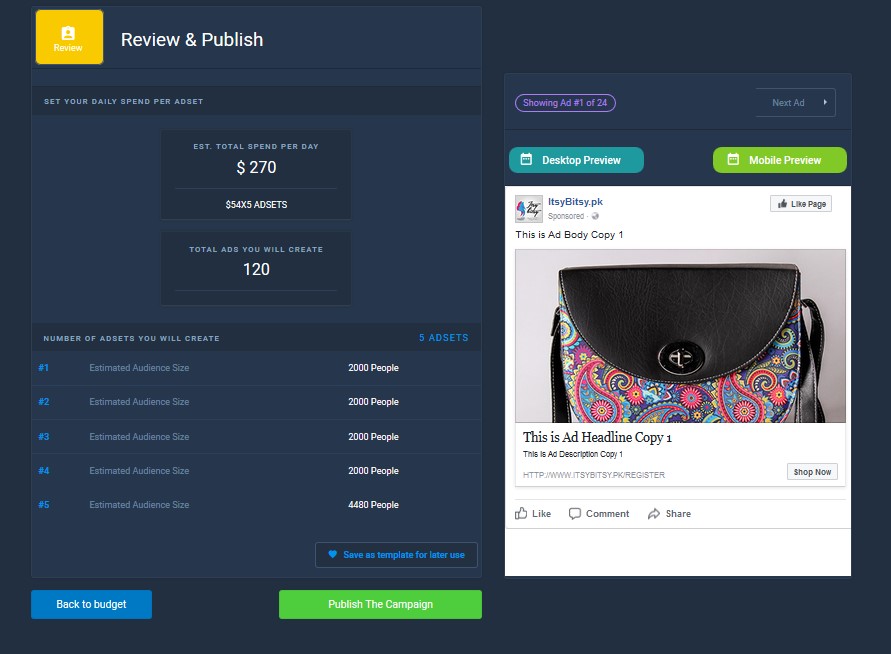 The campaign maker asks you to review everything in your newly made campaign before publishing it. It's the fifth and the last option on the left-hand side. You can edit the campaign, add something in it, or correct the mistakes if there are any.
Publish the ad once you are done with reviewing. It will take just a minute in reviewing and publishing your campaign. That's it! The software will do all the marketing and laborious work for you.
Could you imagine doing the complex Facebook marketing with such amazing features within twelve to thirteen minutes only? It does wonders for the Facebook marketers and is already loved a great deal by those who are using it.
Well, I am not done yet! There are some additional features as well that I am pretty sure will help you a lot in decision-making. Have a look!
Additional Features
There's a lot more you can do with the software. It makes your Facebook ad campaign even more fun. Following is the list of additional features you will find on the campaign maker dashboard.
1) Design optimization rules for your Facebook ad campaign

All you have to do is select the campaign you want the rule to apply to, and enter filtered computerized rules. You can pause any campaign automatically by setting up rules on ad spend, CPC, CTR, Impressions, Conversion, and Engagement. This latest optimization feature.
If you are an agency or individual who manages ads for multiple clients and finds it hard to juggle with hundreds of ad campaigns, this amazing optimization feature will help you to automate your ad deliverability by setting up rules. So, you won't lose money on poor performing ads.
2) Select the Date and Time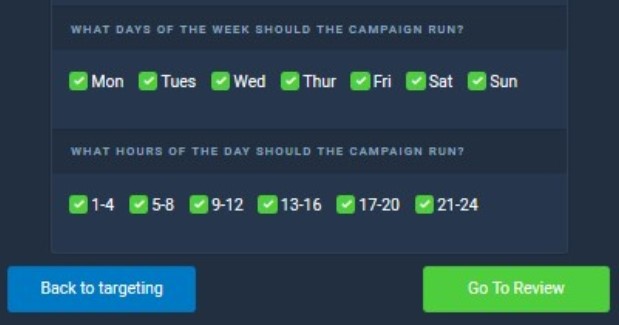 You can day-part your ad by selecting specific day and time during which you want your ad to be run.
3) Scaling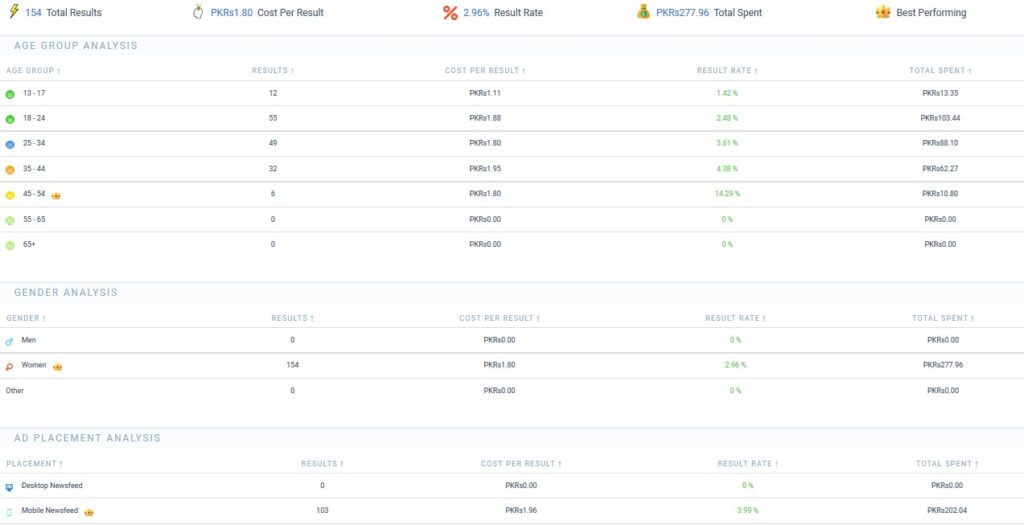 You can also scale down your most lucrative ads to their increase value within seconds.
4) Picture and Video Uploading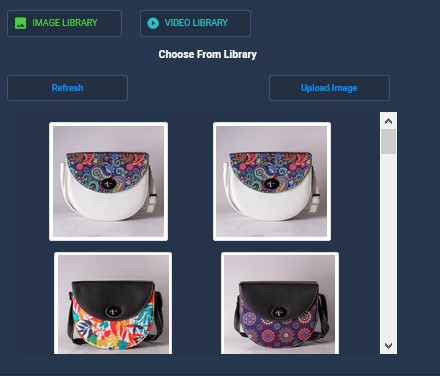 It's just a one-time thing to do. Upload images and videos once and they will be stored forever to your Facebook library.
5) Filtered Searching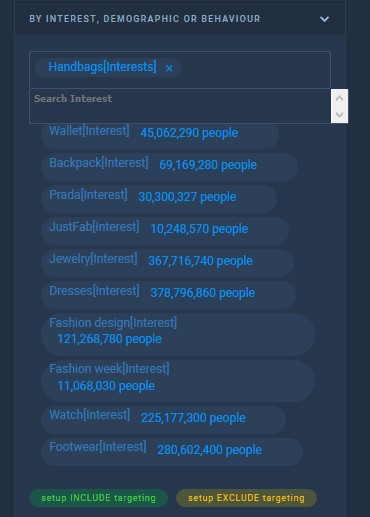 It saves you a great amount of searching time as it allows you to explore as per your interest. You tell campaign maker your interest and it will generate results, accordingly.
6) Mobile-Friendly Software
Is your desktop down and you are tensed because you can't work? There's nothing to worry because you can access this software from mobile phones and other devices, too.
7) Scaling of Profitable Campaign
Here comes the most interesting part! After working on a campaign, all you wish for is profit and when you can scale them to maximize your ROI, it gets even more interesting.
8) Pinpoint Targeting
The campaign maker does pinpoint targeting of an audience for you. Moreover, it enables you to split test all the major aspects.
9) Google Analytics Integrated
Built-in Integration with Google Analytics URL builder so you can embed each ad with its own URL for tracking.
In a Nutshell
I have found The Campaign Maker easy to use and money-saving. Spending a handsome amount of money on a campaign that ends up being non-profitable is common among Facebook campaign makers, and this software saves you from all such troubles. Furthermore, the exclusive and smart split testing option is another unique feature. Aren't you tempted to use it now after knowing everything?