In today's day and age, Social Media happens to be a very significant part of our daily life and we spent countless hours of our day consuming visual content; at times without even noticing it. If used wisely, Social Media also proves to be a brilliant means of advertising and directing traffic towards your website or business. How many times has it been that you found yourself watching a series of bite sized Buzzfeed videos on facebook, only to end up on Buzzfeed's Youtube channel or the Buzzfeed website to watch their featured content? Like most businesses, Buzzfeed understands the power and vigor of Social Media and hence most of the visual content on their Social Medias is especially designed to pique the viewer's interest and almost subtly but effectively direct them towards their featured content/websites. This results in higher traffic and thereby greater ad revenues.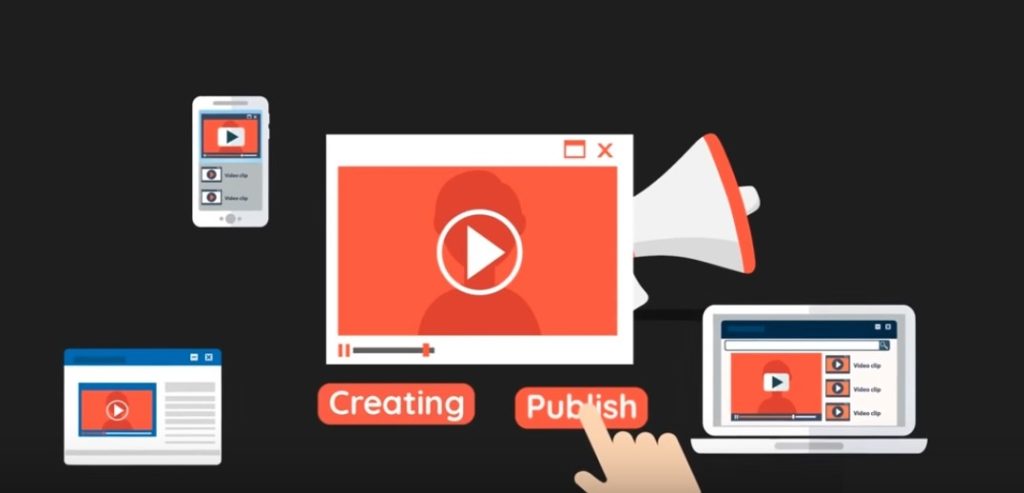 The Magic Of Visual Content
Visual content is what takes the cake on Social Media when it comes to grabbing attention and generating a response. This is because, unlike wordy content, visual content is quick and easy to consume, is more entertaining and has the highest reach. I mean, think for yourself, would you prefer reading an article or watching a video conveying just the same within a 5 minute time code?
Videos get billions of views every day; 75% of the people on the internet spend their online hours watching videos. Videos are the fastest way to generate free traffic and get multiple page one rankings on google. This means that your business has higher visibility and will be amongst the first pages to show up on a relevant google search!
Creating Videos is as easy as ABC!
Gone are the days when creating videos required any sort of professional assistance and today, with a world of nifty free applications available, creating an engaging video is child's play and can be done in a matter of minutes. All you need is a smart phone and your creativity and you are good to!
To help you out, here are our picks for the niftiest video making apps for Android and IOS:
1- Videoleap (IOS)
2- Adobe Spark Video (IOS & Android)
3- Adobe Premiere Clip (IOS & Android)
4- FilmoraGo (IOS& Android)
5- Magisto (Android & IOS)
The Next Step
Now that you have just the right video creation app and all the expertise to make an engaging video at your fingertips, the next step is assuring your video gets the best response. I mean, where almost anyone can make a cool video, the catch is reaching a bigger and broader audience and generating traffic and rankings from your videos without spending countless hours in the process of tailoring your videos and re-uploading them across multiple platforms.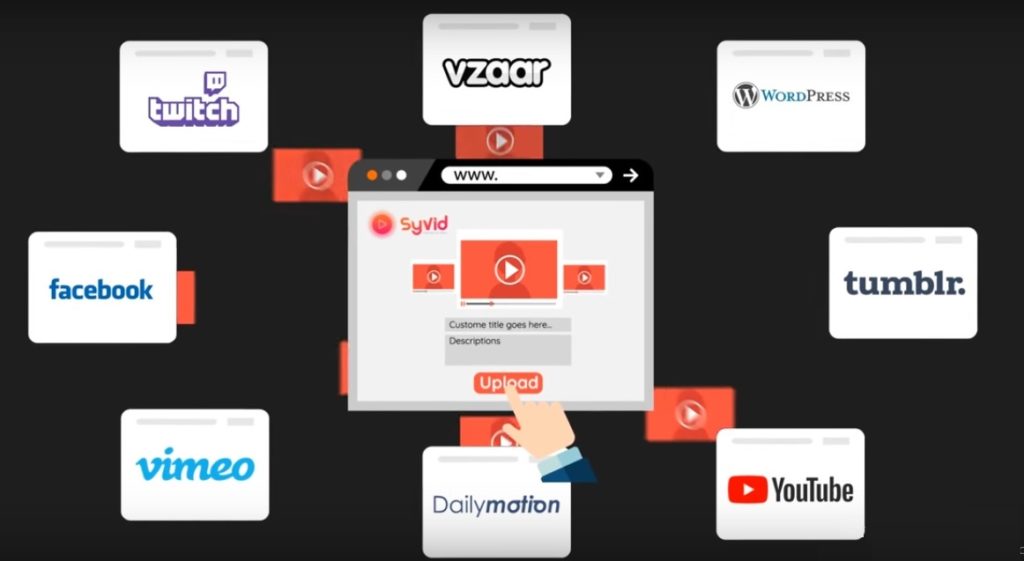 But fret not, we've got you covered on that too! What you need is a smart video distribution software, which knows how to efficiently target your audience across all traffic heavy video sharing platforms in matter of clicks.
Here's Exactly What You Need!
The secret of many businesses' success is a really smart and fully automated video distribution software and you too can have a share in that success and here is exactly what you need!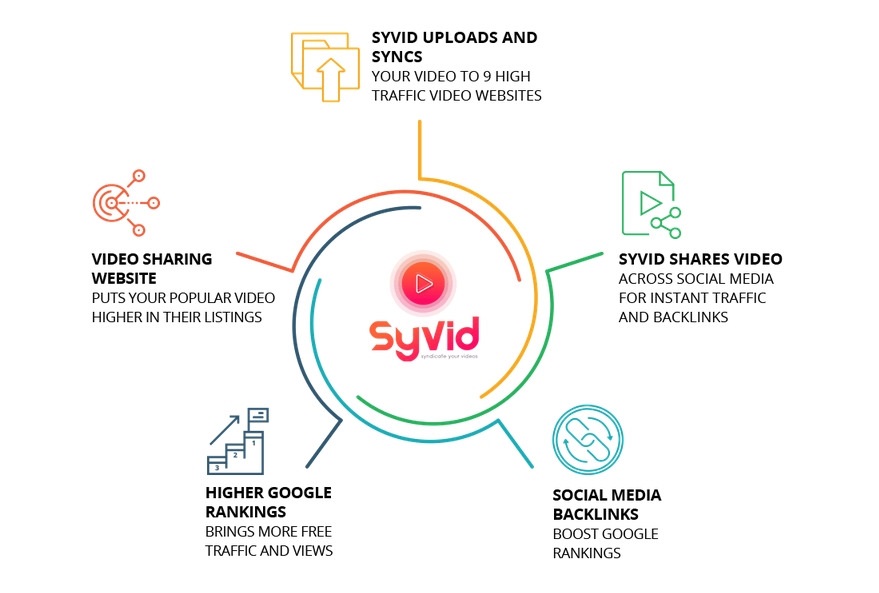 Syvid is all in one, fully automated, video distribution software which makes sure that your video reaches the most number of viewers across all major video sharing platforms like Youtube, Facebook and Tumblr without the hassle of manually tailoring your videos to suit each platform's rather specific requirements. All you have to do is make an engaging video and let this software handle the rest.
This is the easiest way of securing multiple page one rankings on Google for your business and what's the best part about this software is that it not just shares your videos but also makes sure that they are perfectly tailored to target audience and direct traffic to your website.
Let's Get Down To The Process
Essentially, all that you have to do is follow the instructions and press a few buttons which almost anyone with fingers is capable of. But this is the process which happens under the hood to bring you fast, free and hyper targeted traffic in seconds:
1) First, your video is simultaneously uploaded to 8 major video sharing websites such as Tumblr, Vazaar, Vimeo, WordPress, Youtube, Dailymotion and etc. This generates instant traffic!
2) Second, your video is automatically shared across 14 Social Media websites which include: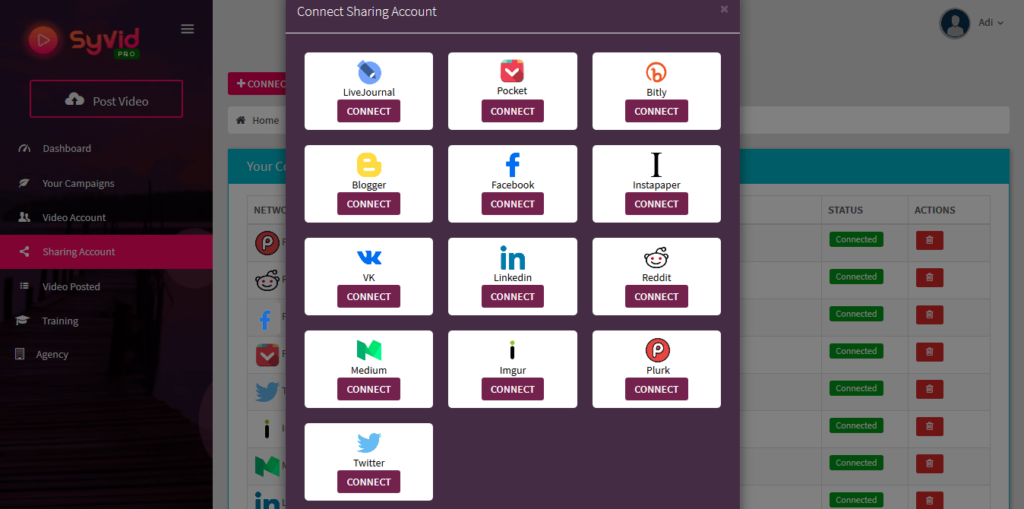 Facebook, Twitter, Reddit, Blogger. Instapaper and Linkedin amongst others.With that robust sharing, best believe your videos might even give video giants like Buzzfeed and massive youtubers a run for their money and lave them shaking. This software grabs you the best backlinks that boost your google rankings and all the more traffic back to your website right off your social media platforms.
This double punch combo of mass syncing and social media backlinking hyper boosts up your view count and the more views your video gets, the higher it appears video websites and Google search results. That's the magic of it!
But What Makes This Particular Video Distribution Software Our Pick?
As far as software go, there might be more than a few but most of them just turn out to be gimmicks which really show no real results. But what makes this our favorite pick and an end to our search for the perfect bulk video sharing software is its ability to generate the quickest results. But here's our list of other unique capabilities which make this software our favorite pick:
1) It's super easy!
2) Offers one-click video syndication and social media sharing
3) Offers auto-scheduler
4) Offers SEO video ranking assistant
5) Automatically spin titles, description and tags to avoid duplicate/dupe content penalties
6- Quick as a whip! Upload, syndicate and share hundreds of videos in a day or even in an hour without missing a beat.
7) Cloud Based
8) 100% whitehat approved
9) Video based campaigns
10) One-click connect
11) Alternate of dead softwares like Traffic Geyser, Pixelpipe and TubeMogul
So now you have all the essentials you need to make your business a booming success. Let's make a quick check-list:
1) Video creating apps? Check!
2) Video distribution software? Check!
3) Millions of views and multiple page one rankings? Check!
So why don't you head over right now and make this check-list a reality for your businesses' success!