Summer is a great time of the year to pack your bags and set off on an adventure; explore new parts of the world, meet new people and go to places you've never been to before. But where the benefits are umpteen, traveling can at times seem rather overwhelming. We often find ourselves enthusiastically flipping through the pages of a tourism magazine only to shrug at the very thought of the hassles of planning a travel. However, contrary to popular belief, traveling has never been easier. And given the advent of the digital age and the plethora of mobile travel guide applications available, planning a trip today accounts for little more than a press of a button!
Available in the IOS App Store for a competitive price-tag of $0.99, Modern Atlas is one such application that brings trip planning within the palm of your hand. The application features travel guides and maps to over 21,000 cities and has information on more than 1.5 million landmarks and hidden gems. The guides are written by independent travelers from Wikivoyage and Wikitravel and thus provide you with recommendations for the best places to see, eat, and sleep while on your trip.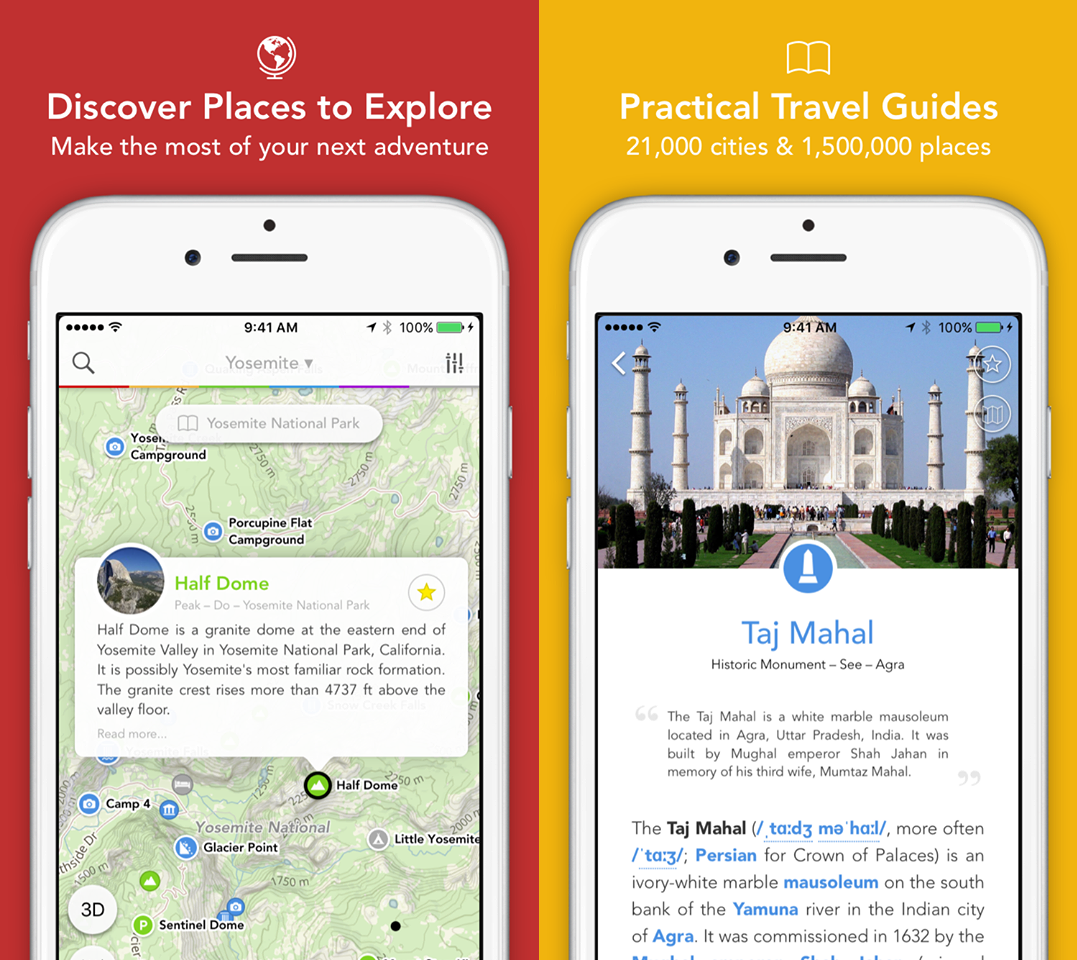 When it comes to visual interface, Modern Atlas offers a clean and minimalist aesthetic that seamlessly fuses with the overall IOS design. The user interface is well organized and easy to maneuver through, as various businesses and spots of interest at your destination appear colour-coded and the Avenir typeface makes text legible and easy to read.  The application also features subtle animations that make the user experience more interactive; as one moves from one part of the app to another. Furthermore, the application also puts great emphasis on visuals, and exhibits beautiful snaps of selected destinations that are photographed by actual travelers. This gives the users a taste of what they are likely to experience in their travel and inspires them to pursue their travel dreams. And even if you aren't traveling anytime soon, it's always nice to learn about different places around the world, and if you like what you see, it's never too late to add a destination to your bucket-list!
When launched, Modern Atlas welcomes the users with a few introductory screens that acquaint them with the application's features and walks them through the process of getting started with the first map guide. Which is as easy as typing a city or a landmark in the search bar. Once a point of interest is selected, Modern Atlas, then takes you to that spot using Apple maps, which are well integrated with the application and the whole process is rather seamless. Modern Atlas quickly pulls up all relevant data from sources like Wikivoyage and Wikitravel, and as spots on the map start to populate, you can access pop-up detail boxes with a single touch and read up about the spot. And if you like the spot, you can quickly save it by tapping on the 'star' icon. The map also allows users to use multi-touch gestures for ease of access and enable 3D Flyover mode to take a virtual tour of the destination. Modern Atlas' functionality, allow it to not only be used to find out about the destination before visiting it, but it can also prove to be very handy at the moment. Either way, the application provides a lot of information, including how to get to a particular spot, to its historical significance and tips on how to make the stay safe and comfortable.
They say that the world is a book, and those who don't travel read only one page. And now that you have the world within the palm of your hands, now is a better time than ever to fire up Modern Atlas, pick a destination and pack your bags for an adventure of a life-time.